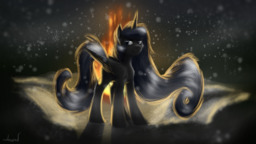 PLEASE NOTE: THIS IS NOT A AVATAR THE LAST AIRBENDER PARODY! THIS MEANS THERE WILL BE NO "BENDERS", NO "AVATAR", OR ANYTHING OF THE SORT!
Since before time immemorial, Alicorns have ruled over nearly every country in Equestria save for the griffon kingdom and a few other uncharted locations.
However, when the world needed them most...
They vanished...
Alicorn's soon faded away into myth and legend as hundreds and even thousands of years flew by..
It was at the very end of a long and gruesome war that something miraculous and unprecedented happened:
An Alicorn was born.
Chapters (15)