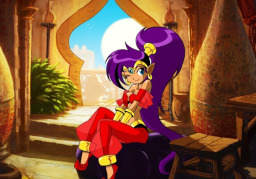 "I am not the Genie of the Lamp. I never was, and I never will be. I am your slave no more, and if you think to try again, I will show you how mistaken you are."
Over one thousand years ago I was sent to Equestria by a treacherous salesman's cursed trinket. It changed who I was... what I was. Gone is the simple business man with a penchant for crossplay, the father of two and beloved husband. That's all gone now, taken from me by Sombra, the Princesses, and time.
I have become the costume, a half-genie with looks that could kill. Oh how I have been made to kill. But that time is over now... I hope. There's just one more thing that I have to do.
A Displaced story.
Shantae and all related art are owned by WayForward Technologies and Matt Bozon, and I claim no rights on it or My Little Pony: Friendship is Magic. This story is for entertainment purposes only.
Rated teen for some sexual humor and violence.
Chapters (4)