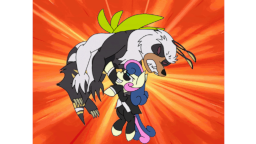 Everybody in T.A.C.T.I.C.A.L. has heard about agent Doodle's exploits. He's managed to befriend a sea monster, taken on a Tarripus, and even earned a knighthood rescuing Celestia from... something highly classified. There's not a pony, donkey, cow, or [redacted] in the administration that doesn't respect the donkey and his contributions to Equestria.
So when Agent Sweetie Drops is paired up with him on her first assignment, she is understandably very excited. And a little bit nervous. But she'll try her hardest to help the legendary agent out!
Even if the target has... other plans.
(Image created by Bonmod. Be warned: The original is ANIMATED.)
Chapters (1)