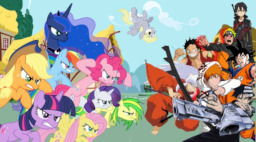 This series is about characters from all the anime shows around! The only story that YOU decide who fights next! We take an anime character and form a reason for them to appear in the My Little Pony world who will meet their unknowing opponent (methods will be different depending on both personalities) which they will fight it out till there is only one winner.
Rules and battle engagement terms (PLEASE READ!!):
*Everyone chosen will be up to date with their power levels and skills unless stated, for example: Goku from season two in Dragon Ball Z versus Twilight from season four. Otherwise they will be locked in from their last seen episode
*If you want to choose the next two combatants, you must first put in your pair that you want to see fight and for the anime character, you must put down their full name and anime series name (Example: Kirito-kun from SAO vs Applejack). After you put down your selection, you must have at minimal of 3 likes (Will go up as the story grows in followers) and you can also like it yourself, but you must have 3 likes, no restrictions on how they get there. Lastly I will be the last judge of the choice. If I think it would be an interesting match, I'll start writing and will inform you privately. Please be fair in your selections.
*If you are selecting an OC to battle, it has to be a fairly popular OC (example: Mic the Microphone, Wooden Toaster , Fluffle Puff, ect.) If you make a god like OC and say they are popular, I WILL find out the truth. I have my own personal brony encyclopedia as a friend who will check to see if they are a well known OC. These OC's may be included from stories, media, youtube, and just in general the brony community itself.
*If you are selecting an OC from a popular story, then please put a link of that story so that I may check it out and learn the OC before writing the story.
*Different versions of the main cast of My Little Pony are acceptable selections as well! For example: Psycho Twi, Murder Shy, Cupcakes Pinkie Pie, ect. All different forms will be researched by my friend who will give me background information about all said formations.
* Lastly, this story will not go on without you guys! I had this idea for a year but my followers was just too little, so I had to wait till my group got bigger. I will write the first two myself, but the more active you guys are in choosing a new battle match, the quicker matches can be made and I can start writing them! So we will need to work together on this, so I hope you guys are ready! A 100% original idea and a kick A theme, so enjoy my lovely friends!
Special Note: The cover art was done by DeviantArt name starlet15. She said she wanted to be unknown, but I think she deserves the praise! It was a simple photoshop but for only 5 bucks, I have the (almost)perfect cover art for this story! If you want pictures to be done please message her, her prices are really good compared to others, and her art is amazing!

Chapters (3)