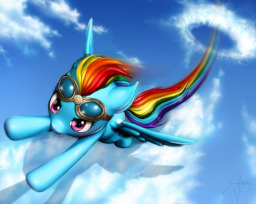 It seems like an ordinary day... Rainbow Dash clearing the clouds in ten seconds flat, making rainbows sparkle in the air, sitting on a cloud on her bum. But the three Wonderbolts had been spying her the morning!
They test her skills, but an incident is present and unexpected changes occur...
BONUS: A secret look at the Wonderbolts life- an in close experience!
Chapters (1)