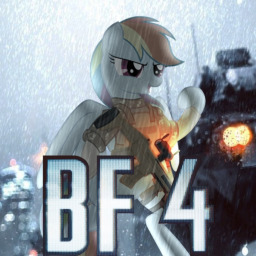 Take the fight to the ground or the sky as Princess Celestia's Royal guard or Nightmare Moon's Lunar Force in this new Pony inspired DLC!
Relive the key moments during the war with sky battles over Cloudsdale and the explosive battle of Canterlot!
Unlock new weapons and armor skins for your solider, play as Assault and mix death with life as you tear though the opposition and heal your teammates; or take up and LMG and mow down the enemy as a deadly Support. Live life on the wild side and take up as much C4 as you can with Engineer, blow away tanks and take helicopters out of the sky!
All this and every insane "Battlefield Moment" you can think of..so run! Run as fast as your hooves can take you to the front line, the war is now..and the hero could be you!
(This is my submission to a competition for Gamer Luna in the Luna is Best Pony group, I wanted it to sound as EA as possible with the intro...and I like it...shut up...i'm sorry. I am also unsure where the cover art came from...)
Chapters (1)