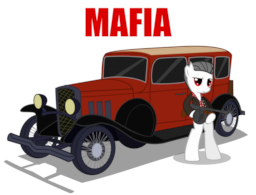 Source
Lyra is an enforcer for the Mafia. The Godpony has noticed her lackluster effort and has called her to her office.
It is time for punishment.
-----
This story is for KarmaSentinal in Write Club.
The Original Prompt:
"Alright, Mafia inspired story staring Octavia and, Lyra. Lyra is the enforcer with a heart of gold, and Octavia is the Mob Boss deep in running an underground market for illegal baked goods."
Chapters (1)