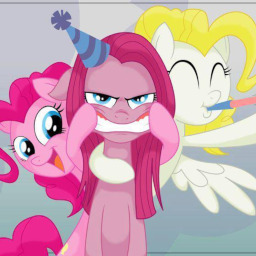 Pinkie doesn't tell ponies about Pinkamena and Surprise. The doctors said that they were bad for her, that they were a disease, but she disagrees. Sure, Pinkamena's a bit of a grumpy-pants, but she's still a great friend! She's often the voice of reason to counter-act some of the other two's crazier ideas, after all. Surprise, on the other hand, is a great prank-player, and always up for some fun. She's more like Pinkie, only more hyper. Both are great fun to be around, and they get on well.
Thing is, she knows that if she told ponies about them, then they would be dragged back to the hospital. And then be 'treated' again. None of them want that. Because of this, not even her best not-in-head friends know about them. The three of them have, for years now, been careful enough to keep the existence of Pinkamena and Surprise secret.
This has, of course, gone out the window now that Twilight is hammering on the door after overhearing one third of a conversation, with no sign of anyone else talking.
---
Hints of F/F shipping inside. Nothing will actually come of it here, though. Maybe in a future story.
Cover art can be found here: http://killryde.deviantart.com/art/Smile-338206490
Chapters (21)