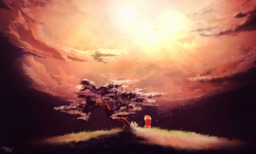 Source
The Dreamscape. A realm of pure, untainted magic, where your limitations are only bound by your own imagination. Luna guards this realm with her life, but when even her magic isn't enough to stop a malevolent force from infecting it and entering into the mind of a friend, she turns to Twilight for help.
They must enter Fluttershy's broken and tainted mind to stop the corruption before they lose her forever.
---
Editing done by Doccular42
Takes place between season 3 and season 4.
Chapters (3)