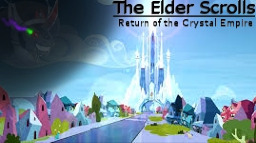 This story is a sequel to The Elder Scrolls: The Battle for Gryphus
---
Gryphus is now safe from the forces of Razor Beak as Farengar is returning home to Canterlot and to his family. But an old foe of the Princesses returns, along with the city of the Crystal Empire.
---
NOTES
---
Third story in my Elder Scrolls series.
Additional Tags: Shining Armour. Discord.
Chapters will be 1,000 to 2,000 words long each.
Chapters (3)