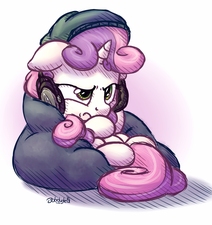 This story is a sequel to Evil Belle
---
Sweetie Belle doesn't want much.
She just wants to rule the entire world.
She attempts to be the greatest supervillain to have ever lived. Instead, she turns out to be Ponyville's least threatening villain. But Ponyville is just one little stepping stone on her way to global domination.
Soon, the whole planet will bow before the might of Evil Belle!
That, or giggle at her antics. Either way, it's super evil and stuff.
Chapters (1)