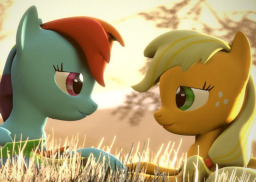 Source
This story is a sequel to The Right Gift Of Love
---
It's Hearts and Hooves Day in Ponyville once again! Rainbow Dash and Applejack have been dating for three years now, and Rainbow has been nervous about this anniversary. The two have seemed to grow apart now that she has been apart of the Wonderbolts and Applejack takes care of the farm. Will she be able to keep their relationship together? Or will it be a final goodbye?
AppleDash one-shot!
This is the sequel of Right Gift of Love. Feel free to read that before this!
Rated Teen for some swearing and girlxgirl themes (mainly just kissing).
Chapters (1)