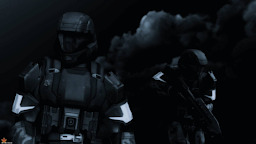 Source
Helljumpers. Little Imps. Or just ODSTs. It doesn't matter what they're called, they're some of the best units in the entire UNSC, aside from the remaining SPARTANs. They've gone through rigorous trials to get to where they are today.
Over New Alexandria, this group of Helljumpers don't quite make it to the ground. Instead, they arrive somewhere none of them can quite identify...
This is my first attempt (on this site) to make a Halo crossover. Hopefully I do good enough to warrant some good reviews.
Give me your opinion, no matter how bad it is!
Chapters (6)