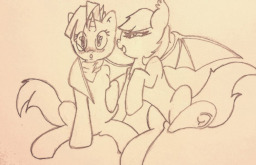 Source
Midnight Song: A Royal Guard on vacation. She was looking forward to a picturesque town with calming beaches, cute little cafes and even cuter ponies~ She wasn't expecting to be robbed, targeted for death and get caught up in a plan involving some of the worst criminals in Equestria.
But hey, at least that little thief is cute~
Pickett Midnight: Wanted thief, amazing pickpocketer and all-around Best Pony. Well, in her opinion anyway. But when she steals the purse of a seemingly common tourist, her life is turned upside down.. But all's not well in her home. Corruption, deceit and murder is commonplace, even if nopony sees it. She wants to change that and a certain Royal Guard might just be the key she was looking for.
The fact that she's pretty hot doesn't hurt either~
---
Collab work with the amazing Ausbrony! Check him out: http://www.fimfiction.net/user/Ausbrony
Check the sequel! Midnight Mares, Crazy Canterlot Catastrophe
Chapters (4)