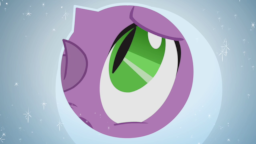 Spike thinks he has a pretty good life.
He has amazing friends, a brand new castle to live in, and the most amazing big sister anyone could ever ask for.
Spike thinks he couldn't, nor shouldn't, ask for any more.
.....So why does this weird... lady say he has nothing? And for that matter, why can no one else see her besides Spike?
Oh come on! She's just joking around! She must be lying... she has to be...
Chapters (1)