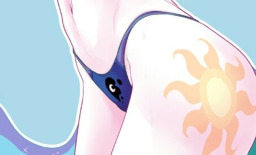 It's late in the city of Canterlot, late enough that Celestia should've been asleep hours ago, and yet she isn't. Rather than laying in bed and doing nothing, she decides to occupy herself with taking a stroll around the palace. As she does, her mind wanders about the stagnation of her daily routine, and the overall lack of interesting developments to make existence seem worthwhile.
It's during this late night stroll that Celestia happens upon Luna, and the two share a conversation that leads her to discovering a new concept that piques her interests. In fact it piques her interests a great deal actually. The only question is whether or not this discovery can supply her with what she's truly looking for.
Rated for nudity and suggestive humor.
This was written primarily in response to writer's block on larger projects.
Chapters (2)