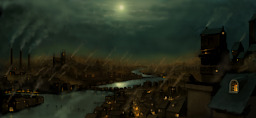 Two old 'friends' that once shared a flame have a chance encounter at a local cafe in Canterlot city...
The story takes place in an alternate Equestria in which their time line is even more closely tied to the likes of Earth. That would place these events well before the elements of harmony and just prior to Word War II, circa 1937.
Please enjoy this simple tale, it is a one shot. The author does not own or wish to own an account on fimfic, so his brother is posting it here at his request by the collabist's group.
The artist is str8g8 from the UK.
Chapters (1)