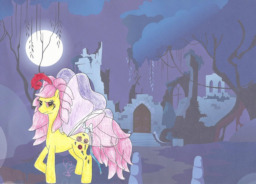 Source
*Under Construction*
I AM changing the previous chapters instead of doing a full Revoke. I have read others work and feel that I can make it better.
Princess Twilight Sparkle has been tasked with exploring the ruins deep in the Everfree Forest. What she didn't realize, is that there is more to those woods than just scary trees, timber wolves and unpredictable weather. The woods are also the home of a long forgotten race.
Who are they? Why do they live there? And what does it have to do with Princess Celestia and Princess Luna?
History hints at their existences, foal stories talk about their magical ways, yet that is all: just stories.
What are they really? Do they even still exist? And what is their connection to Celestia and Luna?
It turns out: There is a Queen of the flutter ponies. She has been secretly hiding in Equestria for well over 2000 years. She is kind, benevolent, wise and imortal, just like Celestia and Luna. So why is she incredibly bitter?
She rules in shadows, in a land without rules.
On the eve of her cornation, Princess Twilight Sparkle will seek answers to unknown mysteries, along with finding a new home. Will she find what hides and bring it into a new age, or will the past remain hidden in the depths of the Everfree.
Chapters (5)