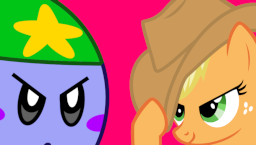 Kaiyo is an atom controlling character that likes to take the hard road at achieving anything and taking such a route can get any fella hungry. Finding an apple tree can be a gift for him, but it could be a problem for Applejack to deal with.
---
This story was originally written out to be an animation crossover for one of my various shorts involving a character of mine named, Kaiyo, but it was never made. So now after these many years, I'm going to be taking the script to the short and transferring it over to a one-shot for everyone (as well as a few tracks that I would've wanted if it was animated). And don't worry, I'll inform you who Kaiyo is withing the story.
This is basically a 100 followers celebration story that I would've made when I got said number since I first started an account here.... why'd it take 7 years, 28 days, and 13 minutes to get 100 followers?
Original Applejack vector by X-Celestia-X
Applejack edit and Kaiyo by Amereep
Chapters (1)