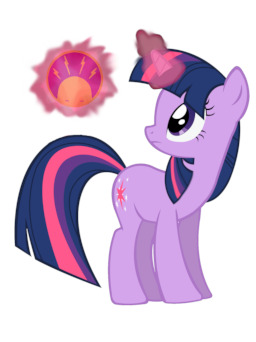 When Celestia discovers that prophecies have somehow been changing, she seeks counsel with the Seers, a group of ponies who are said to be able to see the future. When she meets with them, she and her faithful student, Twilight Sparkle, are plunged into the secrets of the supernatural world, where ponykind and the rest of creation fight an unseen war against demons who wish for nothing more than the downfall of all of creation.
So, in order to use the Elements of Harmony she is fated to use, Twilight must make friends. But the stakes are higher this time, and the fate of not just Equestria, but the entirety of the world fall in her hooves.
Enter the world of Demongate Academy, where individuals possessed of supernatural ability go to train for the fight against the darkness, to protect what the Allmother has fought so hard to create and perfect. Angels. Demons. Psychic Powers. The manipulation of Spirit Energy. Powers beyond your wildest dreams.
And don't forget to study for that math test third block. Hah, math test. What do you think this is, High School? Well, almost... More University style, actually.
Based on the Demongate High setting of the Paragon Universal RPG, by Sean Boyle. Check out Paragon over at the Tremorworks Website!
A brief, WIP conversion guide for using Ponies in Paragon can be found in this GoogleDoc.
Note that this is an indirect crossover, since Demongate High doesn't exactly have a story of its own. It is a tabletop game where the Narrator forges his own stories, and the players can somewhat influence the world through their actions and decisions. I'm simply using it as a base for the story.
EDIT: We do in fact have a canon story for Demongate High. It's all humans, no pony, but it should end up being a good read. Check it out over here.
Chapters (7)