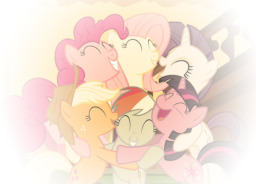 It had been the perfect life for Twilight.
100 years of living happy, living in a paradise from the moment she was crowned a Princess. Over the course of her life, she'd never regretted anything she'd done, because she had been with friends the entire time. And today was her 100th birthday, 80 years since she had became a Princess.
So on the day of her birthday, she begins to remember some of the happy points in her life; the ponies that she once knew that are no longer of the world. And even though she is saddened by their passing, she knows that she will soon be with them.
Because it's the final hours of her life.
Chapters (2)