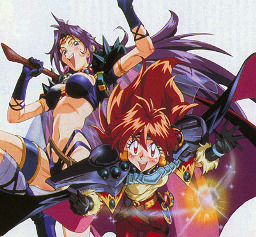 "How could have I known that old mirror was a magical artifact?" asked the dark haired sorceress, siting up and crossing her arms.
"We were in a place called Temple of the Magic Mirror!" shouted Lina, turning back to glare at her unwanted travel companion. "Why did you have to go and hit the darn thing with a Freeze Arrow?!"

A magical accident brings two very unpredictable beings to Princess Luna's Equestria. For once it's no pony's fault! Still, can the ponies handle the explosive personalities of Lina Inverse and her self-styled rival, Naga the Serpent?
Written originally for the Lunaverse April 2013 writing event. This fic is 100% non canon with the rest of the Lunaverse and requires only passing knowledge of that universe to appreciate.
For official chronological order of Lunaverse stories, and everything Lunaverse, please come visit us in the Lunaverse Group!
Chapters (2)