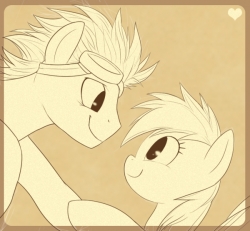 Inspired by Incubus' song 'Here In My Room.'
Soarin' throws a forced formal party to impress the noble ponies of Canterlot, and hates every minute of it. But when the rainbow-maned mare he's longed to see once again arrives unannounced, he'll be treated to a night he'll not soon forget.
WARNING: There are suggestive and some adult themes in this story, but it's not what I would consider a straight up 'clopfic.' I'll leave it to your own imagination when you reach that point.
Chapters (1)