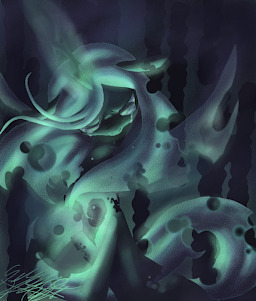 Source
This story is a sequel to Therapist Visit
---
After our therapist finishes his visits with Princess Luna, he is immediately thrown into another confrontation with a certain Queen. Chrysalis is crippled, both mentally and physically due to a torturous addendum in Cadence's love spell. Rationale would consider it to be a blessing, while Chrysalis sees it as a curse. Chrysalis threatens to kill the stallion if he doesn't answer her questions. It's a race against time as Rationale struggles to find out exactly what makes the Changeling Queen, something that he has never seen in his life, tick.
A side story to Therapist Visit, written in the same style as a first: Second-Person with dialogue only and quotations omitted.
Based on an episode of House called Last Resort.
Cover art by Midnameowfries.
Chapters (1)