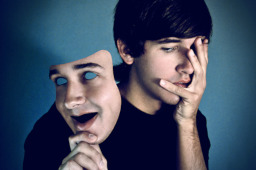 Source
(Currently undergoing heavy reconstruction. All rewritten chapters will be marked as "REVISED".)
Masks. We all possess them, whether we realize it or not. Some are thinly-veiled facades that we wear to get through our daily lives. Others are hardened shields forged through years of effort and practice. But every mask has its cracks, its chinks in the armor. And when those cracks finally show, the mask begins to crumble and fall away, and you start to see what lies beneath.
And it's not always pretty.
NOTE: While I appreciate all comments I get on this story, I would personally prefer if they could say more than the usual "Great chapter, keep it up!" or whatever. What do you like about it? What stuck out to you in a specific chapter? What would you like to see expanded upon? How can my writing be improved? Maybe there things you don't think are working and if so, leave suggestions on how I can make it better!
(Rated "Teen" for language and "Sex" for some crude jokes and innuendo I'll likely throw in.)
(NOT a self-insert by the way. Seriously, screw those.)
Chapters (14)