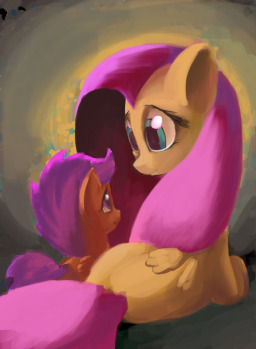 Scootaloo's family has always been a mystery: is she an orphan? Will we find out her family eventually? Is she somehow secretly related to Rainbow Dash?
The truth is, Scootaloo's one and only family member has been staring us in the face the whole time-a familiar pegasus who lives in a little cottage right outside of the Everfree Forest.
This takes place before Scootaloo meets the Cutie Mark Crusaders, and before Fluttershy meets any of the Mane Six-excluding Rainbow Dash. This is purely fanfiction-as far as we know, Fluttershy is not related to Scootaloo in any way, shape, or form.
I do not own the cover art, either.
Chapters (1)