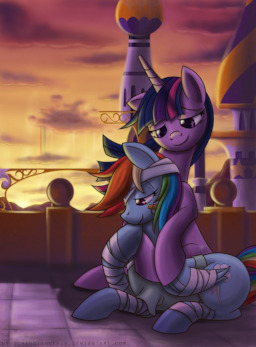 It has been a couple of years since Shining Armor passed away. Twilight and Rainbow Dash are now a couple. Rainbow has even moved into the library.
Twilight and Rainbow are having the best time of their life.
But after an accident Rainbow ends up grounded for the rest of her life. How will Rainbow and Twilight cope with the fact that Rainbow Dash, the best flyer in Equestria, will never fly again?
Not needed to read my other story. But i really appreciate if you do ^^
Chapters (14)