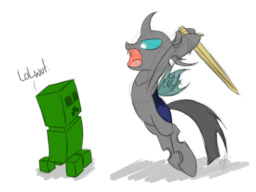 Source
During the Canterlot Changeling Invasion, Drone 1074 was on the front lines against the Canterlot Royal Guard when the love spell flung the Changeling forces from the pony capital. However, due to a series of odd and unexpected events, the lone drone finds himself in an unexplored and unknown land. Join him as he explores, trying to find love, shelter, and his hive. These are the journals entries and logs of Drone 1074, Also known as Iota, as he struggles to survive in this land seemingly without love.
This is a Minecraft crossover. I had this Idea when I was playing hardcore mode with several mods installed. Among them were the Mine little Pony mod. For whatever reason, I had a Book & Quill, and decided to role play as this changeling. This is what came to my mind when I started doing it, and I thought it would be a good story to write.
Special thanks to KyroKing for the art.
OMGOMGOMGOMGOMGOMG! Featured 1/1/15!
ThankyouThankyouThankyouThankyouThankyouThankyou!
Chapters (15)