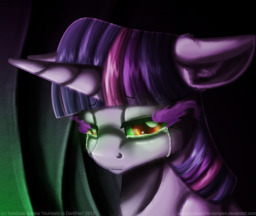 Source
King Sombra survived his defeat, but just. By the time he returned to form, Twilight became the newest princess of Equestria and the Crystal Empire was restored to its former glory.
He cannot take over Equestria the same way he tried before, but he has a card up his sleeve. Twilight won't see it coming, and Sombra might gain a powerful ally in the process.
And it will all begin...with a book.
Edits on Chapter 1 done with the help of TempesttheDragnix.
Major props to InuHoshi-to-DarkPen for letting me use this. That artist is really good.
Chapters (20)