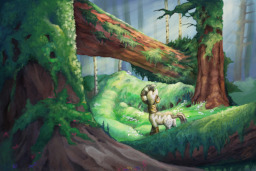 Soon after Twilight's ascension to Alicorn-hood, her friends followed and took control of the Elements - and when Fluttershy took control of the Earth, no-pony, not even Celestia, would realize what power they'd given her before she changed them all into stone and hid herself away in the Everfree forest.
Ponyville is deserted. Canterlot is in a continual state of crisis. Her friends have abandoned her.
But that doesn't matter. All that matters is that no-one leaves.
Chapters (1)