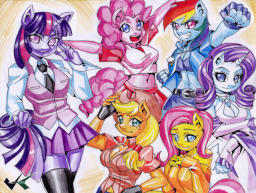 What happens when two men are sent to a world filled with Pony/People girls? Lots of chaos for the two guys, much awkwardness, and hilarity ensues. Join these two guys as they try to make new lives for themselves in this wonderful and colorful world of anthro ponies!
(Note: Ponies have modern technology in this universe.)
Warning: Language, suggestive themes, most likely lots of sex jokes, and Anthro Ponies. Not into that stuff then turn away now.
Collab with my good pal The Alpha
Chapters (7)