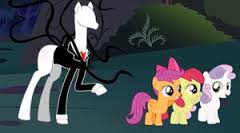 "To the East of Ponyville lies the Everfree Forest, to the South, Sweet Apple Acres, and the North, Canterlot. However, no matter what map you read, nothing seems to exist in the West. Many ponies have tried to map this area, but few ever returned, and those who have returned were never the same as when they left."
This just screams "Cutie Mark Crusaders Adventure" doesn't it? (Since there's no "horror" category, I'm telling you right now that this [might] fit under that category if it existed.)
First of three stories.
Chapters (10)