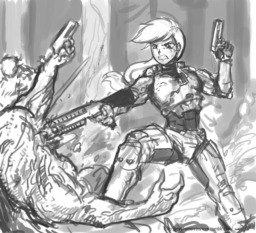 Source
The year is 2557. Six months following the discovery of the Forerunner Shield World "Requiem," the UNSC continues to discover more and more of the forgotten past left behind by this ancient race. With research facilities located across entire human colonies, humanity faces its next stage of evolution.
One such facility is the one designated as "Starswirl Base." Located on a backwater colony, tucked far and away from prying eyes of the public, this research base is a true Garden of Eden, a wealth of seemingly endless knowledge about humanity and its past. When this facility suddenly loses contact with the UNSC, two elite Spartans are dispatched to investigate the cause and bring Starswirl Base back online. However, nothing is as it seems in this facility... for it holds many secrets for the two supersoldiers-- and the hidden truths behind some of the UNSC's darkest projects...
This fanfiction is part of the "Nobleverse."
Chapters (2)