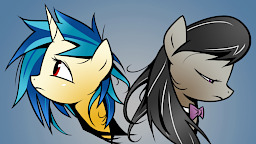 Source
Based on the song 'I am Octavia' by ElieMonty and Nowacking. You can read this without hearing the song, but I strongly suggest listening to it because it's just beautiful and it'll give you a little more background for the story.
I am Octavia <--link for your convenience.
Octavia has had enough. Enough of the selfishness, enough of the hurt, and...maybe enough of Vinyl Scratch. After telling her she was going to miss her concert, again, the earth pony calls their friendship off. Now, it's up to DJ Pon3 to let her best friend go or fight tooth and hoof for their friendship. But with everything getting in her way, will she be able to make it? Or is one of them going to need a new place to call home?
Chapters (1)