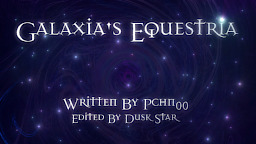 After the royal sisters' black hearted mother is inadvertantly awakened by a curious young knight in training, the world is changed for the worse. Celestia and Luna are banished to their respective celestial bodies, division has reformed between the three tribes stronger than ever and even the Elements of Harmony are seemingly lost.
Very few retained their memories of happier times. One of these few has been biding his time, waiting for the right moment to strike and take back Equestria in the name of chaos! ...no? Not chaos? Fine I guess for Harmony. Party poopers.
Sequel to Settling In, not really required reading but the last chapter at least helps set the stage!
Chapters (22)