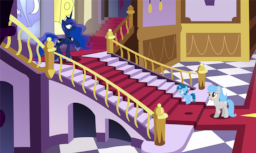 This story is a sequel to Hope
---
Here you will find the stories about the residents of Pasofino, and the ageless realm of Equestria in which they live. Each chapter is meant to take but a moment to read, and may or may not be in chronological order. I have made an attempt in every tale to highlight the time period.
(These are side-stories to the trilogy of Order from Chaos, Justice, and Hope.)
(image magicalness courtesy of alexstrazsa and snowdrop and skyshine courtesy of wentox / wento)
Note: Not Dead, Merely Sleeping. Yes, it's been forever since an update, but I hope to get back to this once my job/debt situation is resolved.
Chapters (9)