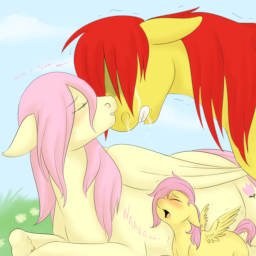 Wilting Posies stars Sunburst and Posey from G1 MLP as the fanon parents of Fluttershy.
Sunburst spends the evening with his daughter, Fluttershy, for her birthday. Part of the annual tradition has him visiting Posey's room and trying his best to dwell on their happier times together.
Fluttershy surprises Sunburst by asking after her mother and the unknown parts of her past, invoking a stroll down memory lane and a tale of love and loss.
-----
This is...not my masterpiece per say, not yet anyhow, but once I finish touching it up I think it will be safe to call it that. At least until I out do it. I'm currently in the process of updating it where i've caught errors and had some help working on dialogue. I've decided to not dwell on perfecting this piece and instead will be focusing on future works. I did enjoy writing this, but when my motivation to write dwindled, so did the will to edit it properly. I'll instead look on it fondly as a sign of improvement as I move forward.
Please leave comments; they give great insight! Also, please visit my DA account if you wish to keep a lookout for more stories that I haven't uploaded here yet, as well as updates on when i'll be adjusting or adding content to anything i'm writing!
Chapters (1)