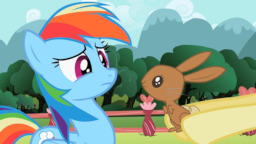 Fluttershy's got a teesy-weensy bit of a secret. Nothing too bad, mind you. She's not a psychotic killer, and she definitely doesn't do anything…dirty. Unfortunately, what she does still teeters on the rather…frowned-upon side of the law. And to make matters worse, with the Royal Guards clamping down, she needs somepony to help her out.
And that's where Rainbow Dash comes in. Of course, soon she'll realize doing a friend favor sometimes isn't all that easy. Especially when that friend runs an illegal animal smuggling operation out of the country.
But hey, if she gets caught…she'll still look pretty darn good doing it.
Chapters (12)