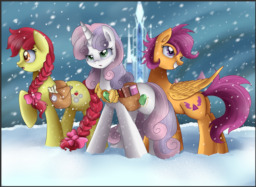 Source
This story is a sequel to Scion of Chaos
---
Five years after the summer in which the three had gotten their cutie marks, Scootaloo, Sweetie Belle and Apple Bloom, now young mares in their own right, decide to go on a quick summer vacation, all as an attempt by Sweetie Belle to cheer up a sad friend. However, the trip turns out to be more than they had anticipated.
Set five years after Scion of Chaos and An Emerald Treasure. For the sake of context I'd recommend reading both of those first.
Special thanks to Mac349 and Plebeian for proofreading. Thanks to CMC4TW for editing/idea-mulling.
Chapters (24)