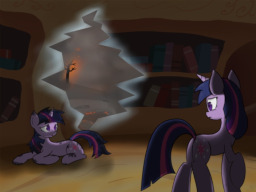 Source
- Act I (You Are Here) - Act II - Act III
Applejack begins to notice suspicious behavior in her friend Twilight. As she presses for the truth, she discovers the truth about their world.
They are not alone.
Somewhere, there is another Equestria, another world in which copies of the Element Bearers live different lives, unaware of the destiny that was almost theirs. A world shrouded in darkness.
As these two worlds begin to collide, six strangers will discover that they must inherit the mantles passed down by their alternate selves and become heroes in a world without rainbows.
(Very) loosely inspired by the television show Fringe.
Act II can be found here: http://www.fimfiction.net/story/96
Cover image by Muffinsforever. Show him some love at http://muffinsforever.deviantart.com
Chapters (9)