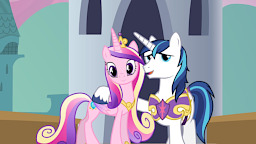 When Twilight Sparkle was just a filly, and Shining Armor began training for Celestia's royal gaurd, his time to foal sit her was cut short. Her parents, in need of a foal sitter, put an ad in the paper.
Mysteriously, the Princess herself sent Princess Cadence to Twilight's door, for reasons confined between the two of them.
Slowly, Shinging Armor feels himself falling for the beautiful pink princess, and maybe Cadence feels the same way, and what stared out a mission to watch over a gifted unicorn, becomes something much more.
Chapters (1)