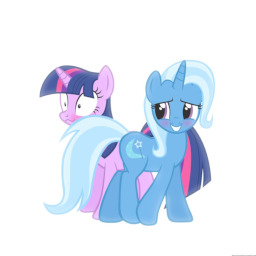 Source
Six years ago, Trixie rolled into Ponyville with intent to go about life as she always did - wow the crowds and stroke her ego. However, in something she recalls as the "Boast Buster" incident, Trixie was introduced to Twilight Sparkle, a mare for whom Trixie's feelings would gradually develop.
Cover art by NavitasErusSirus.
I don't normally ship Twixie, but when I do, it's for my lovely pre-reader Fyeten's birthday. They say behind every author is a strong pre-reader (or, well something along those lines), and Fyeten is that woman to me. If you enjoyed this, or have enjoyed any of my stories, please, go to her profile, and wish her a happy birthday.
Chapters (1)