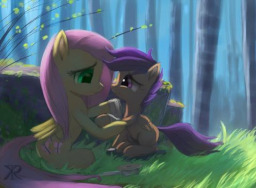 (Story original written by AmaraDash19, transferred and continued with permission. Warning!: Contains Diapers, Diaper Useage, AND Ageplay! If you're not comfortable with such material, do not read!)
After her past starts to come back to haunt her, Fluttershy reaches out to the Cutie Mark Crusaders to help her. Unfortunately for her, none of the trio accepts.
But one filly comes back and surprises Fluttershy...and herself!
Can Fluttershy provide Scootaloo with the home she needs, and will Scootaloo give her new mother the courage to stand up for herself?
(Chapters 5+ proofread by Matt11. Feature on 11/01/16)
Chapters (8)