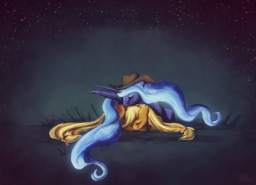 Source
Luna has returned to Equestria, but she is as cold and distant as the moon that held her captive. Celestia broods on her throne, regretting mistakes made and prices paid. Twilight Sparkle contemplates betrayal, and as her faith drains away, bitterness takes its place. And in the darkness, a relic of an ancient tragedy watches, his life consumed by greivances that he can neither remember nor forget. Betrayed and betrayers all, four ponies in need of a redemption that only one seeks. Will Honesty be enough to save them? Can one hoof, extended in trust and forgiveness, mend four wounded hearts?
Includes Applejack X Luna and slight Twilight X Celestia shipping.
With thanks to my editors, peppermint-roo.deviantart.com and sosweetntasty.deviantart.com
Written prior to season 2, so severely jossed by canon.
Chapters (15)