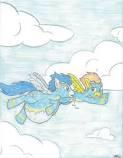 Source
After the effect of the spell that converted Canterlot into the opposite sex was removed, everypony was supposed to turn back to normal. Unfortunately, Soarin isn't one of those ponies, and the reason may be as unwanted as his new bundle of joy.
Luckily for him, he's not the only one.
Written during the events of Season 3. Future canon will be applied, but keep this in mind when reading the first four chapters.
If you like/dislike, please leave a reason why. It helps me improve the story every time you comment.
Chapters (5)