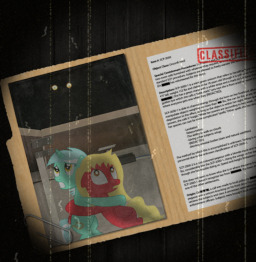 The creak of metal echoed as a hellish choir in the room. Lyra sobbed, clutching the little communication device to her barrel, as though it were her life itself. "Please..." She whispered. "Anypony, I think-I think it's getting closer." ...A sickly, raspy breathing crested the doorway on the other side of her hiding spot. "Help..."
[img]http://i1242.photobucket.com/albums/gg531/heavensbee/Smilies/divider_medium_zps621145b7.jpg[/img]
There is an organization which protects mankind, but remains shrouded entirely in secrecy. It is known as 'The Foundation'. They are unscrupulous and methodical, sacrificing as many lives as need be for the greater good. It can't be helped, the supernatural and meta-physical will always be a threat to humanity.
But not all of their specimen and objects are dangerous. They are varied, some help, some kill. Some are delicious. Some, are deadly.
And some are...well... Cute
[img]http://i1242.photobucket.com/albums/gg531/heavensbee/Smilies/divider_medium_zps621145b7.jpg[/img]
Hello everypoooony! I'd like to thank all the awesome bros that helped with this collab, MrPockets as a writer and editor! MerlosTheMad as a writer! And finally Flying Wingnut as our last collaborator and chief editor. Hope you enjoy the beginning of our haunting tale... *ENGAGE SINISTER LAUGHTER*
Chapters (3)