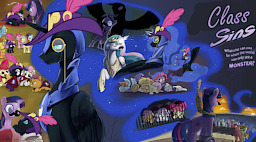 On a dark night filled with sparkly magic, a group of unidentified enthusiasts of some sort attempt to give Nightmare Moon some sizzle, utterly separate from Princess Luna. But, when the spell is interrupted by Celestia's slav... guards, something totally expected is created.
Now, a little black alicorn filly named Nyx finds herself held captive by Twilight Sparkle, only to be haunted by memories and emotions from her past. Is she Nightmare Moon reborn or is she simply a science experiment? Can Twilight Sparkle protect Nyx from those who would call her out on fillynapping?
Or, will Nyx be forced to inherit the poor fashion sense that may not even be hers and become the greatest evil Equestria has ever known?
Chapters (1)