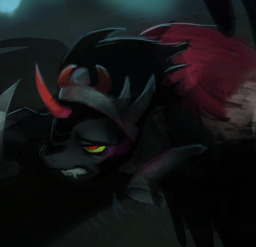 Source
King Sombra, the former tyrant and conqueror of Crystal Kingdom, the wielder of dark magic, servants and slaves that he had at his mere call. One thousand years ago; he lost himself after the banishment by Celestia and Luna, set out to reclaim it but was stopped by Cadance, Shining Armor and Twilight along with other Element of Harmony.
Now what the evil king to do when he lost everything?
Featured on Canterlot's Finest on October 17, 2013.
Chapters (5)