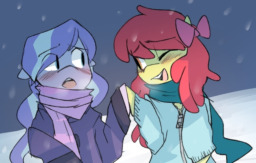 *Takes place before and during Starlight, Starbright*
Applebloom moved to Trottingham to become a good veterinarian. and with Helios and her cousin Zim Zam, it seemed like it was going to work... until she found out her bully Diamond Tiara moved there. she couldn't bare to go though all that bullying again.
but... turns out Tiara had a bad life here and it got worse. and Applebloom is now her pillar of support. they never expected they would find happiness with each other.
guess opposites really can attract.
Chapters (22)