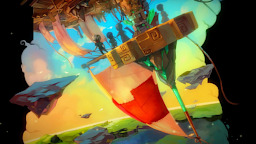 Source
Bastion Crossover
"It was quite a time ago since we first set sail with the winds. The Kid, a person whom I call a friend, made the decision for us of what was to be done with this floating sanctuary. I expected him to set things right and make things go back to the way they were before the Calamity.
Boy was I ever wrong...
The Evacuation protocol had us travelling for quite a time. We traveled for weeks with just the company of ourselves. Not once did we ever expect to end up in a land populated by sentient ponies though. The times are just becoming stranger and stranger it seems..."
Chapters (4)